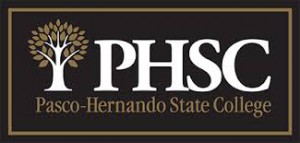 2017 – 2018 Dual Enrollment
If there are students who are interested in starting the Dual Enrollment process please refer to the Dual Enrollment link noted above. This will bring up the manual where you will find all the information needed to begin the registration process.
What is Dual Enrollment?          
In Dual Enrollment, students enroll in approved college credit course working through Pasco-Hernando State College and receive college and high school credit while still in high school. These courses provide options for students ready for additional rigorous learning opportunities. Students can attend classes at the PHCC campus as part of their regular high school schedule.
Who Can Participate? 
High school students can participate in the program after meeting all of the Dual Enrollment qualifications. Students must have an unweighted GPA of 3.0 and meet test score requirements. Students MUST provide their own transportation.
How Do I Register? Students can register and complete an application and have their parents and school counselor's approval. Students must have a 3.0 unweighted GPA to take academic classes. Students must have an acceptable standardized test score from the FCELPT, SAT or ACT. See your guidance counselor.